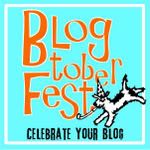 Since 2009, Tresa Black, a.k.a. The Stamp Goddess has sponsored Blogtoberfest on her blog
Fabulously Artsy
. Blogtoberfest is essentially a challenge for bloggers to "step up their game", as Tresa put it. She's going to be sharing tips and tutorials on how to create a better blog...and I for one am game.
This time last year, I had only been blogging for about five months, and with being new to CTMH and working full-time, I just didn't take the time to participate. This time around though, I guess you could say it's perfect timing. I've really been thinking a lot lately about trying to improve my blog presence. Reaching out for more challenges and hops, to help drive my creative juices and then share them on my blog. So taking on this challenge should really help me do just that.
So I'm going to set a goal. I'm always impressed with those bloggers who can post every day, and I'd love to say that I will do the same, but I need to be realistic. After all, I am still teaching full-time, a mom to two, and a wife (and I'd like to stay married). I still have to grade papers and plan in the evening, prepare workshop projects, occasionally do some work around the house (if I can't pass it off on my kids or hubby...LOL), and attend to my spiritual needs. So, hmmm, what would be a reasonable goal? As it is now, I have posted on average 5 times a month...which works out to just a little more than once a week. Ick! That really sounds pathetic. So I'm going to set my goal posting at least two times per week. It's very achievable, but in the end I will be posting 10 times a month...double my average. And who knows, maybe I'll find myself on a roll and post more.
So will all of you help me? Encouraging nudges if I fall behind would be appreciated, but I would also love to hear suggestions from you. Is there something about my blog that you don't like? Something that doesn't work well for you? Information that you want to see, but can't find? Are there certain features that you would like for me to change, add, take away? Of course, I'm always open to hearing about those things you do like. ;) Whatever it may be, I'd love to hear what you have to say.
If you have a blog and would like to improve it, why don't you join Tresa and the rest of us for
Blogtoberfest
?!