Just wanted to pop on to share some exciting news! I've been getting ready all day for my open house (mostly cleaning...about the only time the house gets a thorough cleaning...lol) and needed to take a break, so I sat down at the computer to piddle around for a few minutes. I thought I'd go over and check out some challenges, when lo and behold I see that I was selected as "The Cream in our Coffee..." It's an honorable mention, but considering there were 71 entries...I'm so super excited!!
I now get to add this badge to my blog....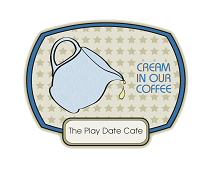 And here was the card that I entered...
Now back to my cleaning and prepping...before the computer takes up too much time.